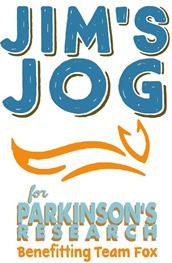 Jim's Jog for Parkinson's Research
Contact Information:
Lily Fielding
(908) 455-1657
68 Van Syckels Road, Clinton, NJ 08809
Saturday Sep 16, 2017 9:00AM
Jim's Jog for Parkinson's Research is a 5K Run/Walk founded in memory of James J. Fielding, Jr. and benefitting Team Fox, the grassroots fundraising arm of the Michael J. Fox Foundation. The fourth annual event will begin at 9 a.m. on September 16th, 2017; please arrive promptly in order to ensure sufficient time to pick up all necessary materials. The race will kick off at 9:45 am.
Please visit our website, www.jimsjog.com, for more information about the race and directions to the event site, Spruce Run Recreation Area, at 68 Van Syckels Road, Clinton, NJ 08809. 
Jim's Jog is open to participants of all ages - bring the family and come walk, run, and have fun! Plenty of prizes will be offered and awards will be given out to top finishers overall and in each age group. 
Make sure you like our page on Facebook to stay up to date with all the latest information about the event. 
All proceeds from the Run/Walk will go to research into a cure for Parkinson's disease and development of improved therapies for current patients. We hope to see you on race day! 
Race
Price
Start Time
Sanctioning Organization

---

5K - Running - 5K
$25.00 - Pre-registration pricing
9:00 am
N/A
5K - Walking - Run/Walk
$25.00 - Pre-registration pricing
9:00 am
N/A
Fundraisers

1

Total Raised

$25.00

Current Goal

$50.00

High Donation

$25.00

Average Donation

$25.00