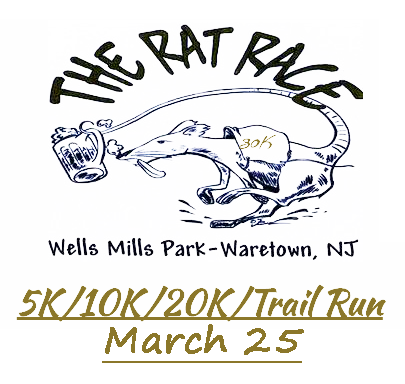 The Rat Race
Contact Information:
Biggie Rat
(908) 489-0926
905 Wells Mill Rd, Waretown, NJ 08758
The Park is closed March 24th due to downed trees. We are trying to secure 3/31. We will post when official. Refunds available, but not until new race date is secured.
100% off road trail run around Wells Mills Pond.  Short out and back 5K,  Single loop around lake 10K, Double loop for 20K run.
Race
Price
Start Time
Sanctioning Organization

---

20K - Running - Trail Run
$30.00 - Late registration
9:45 am
USATF NJ
10K - Running - Trail Run
$30.00 - Late registration
10:00 am
USATF NJ
5K - Running - 4 Mile
$30.00 - Late registration
10:17 am
N/A